California health insurance
-
California group health plans
- Guide to Group health plans
Guide to California Group Health Insurance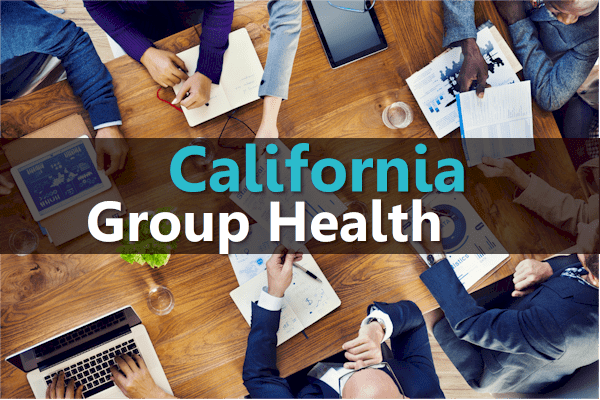 One of the daunting tasks for any new business owner is the world of group health insurance in California.
Most business owners have a finite amount of time and a seemingly infinite list of things to do.
So... we want to give you just the snapshot of what you need to know and then point you in the direction.
We'll follow that with an exhaustive list of articles for further reading.
You know...for the beach.
They're you'll find the finer details and strategy to securing the best Group health insurance rates and benefits in California.
Of course, we're happy to help at 800-320-6269 or email@calhealth.net
As licensed group health agents, there's no cost for our assistance.
That's not bad for over 25 years in group health experience!
You can jump right into the California group health quote here:
Otherwise, you can jump to key topics:

So...how to we get the best group quote?
---
How to get the best quote for California group health coverage
Some of our secrets after 25+ years:
Those are some of the big ones.
Check out our Google Reviews here!
Let's look at each one to see if you can take advantage of one.
---
New Industry association health plans
If you are part of certain industries (primarily engineering and restaurant), you may be able to get up to 30% discounts.
More detail here:
Engineering association health plans
Restaurant or Hospitality health plans
This is new on the market and we've seen tremendous savings versus anything else on the market. If your business is in the engineering or hospitality segments, start here.
---
Control your budget with a fixed percentage or amount of a given plan
This is by far the most popular approach.
Decide on your monthly budget either per employee or for the whole company.
We can then use a benchmark plan (say the Silver plan) and a defined percentage (say 70% for employee) for a given carrier to match that budget number.
The employees can then pick and choose from any of the plans but your contribution is protected.
This is the way to go in today's world where employees have vastly different health care needs.
Run your group health quote here and list your desired budget.
We'll turn that around in 24-48 hours generally.
There's no cost for this service!
---
Mix and Match Group Carriers
We see this quite a bit with Kaiser.
Cal Choice offers a way to do it as well with different carriers.
In the common example, there are situations where some employees want Kaiser while others want PPO (for their doctors).
You can actually offer both and set the contribution level on the Kaiser plan to control costs.
This way, the company has the best budget control but allows more flexibility to employees.
In the quote below, make sure to state if you want a Kaiser Wrap or which carriers you want to combine.

---
HSA's for California Group Plans
We still have them!
And they still make sense for certain groups.
The HSA combines a high deductible plan with the ability to fund HSA tax accounts for first dollar coverage
Some key benefits:
Potential savings on total costs to employer
Employees get first dollar coverage and can build up an asset if they don't spend account
Tax savings for contribution to employer AND employee
Actual incentive to take better care of health! (the goal in all this after all)
We're happy to walk you through it.
Either contact us at 800-320-6269 or by email.
You can also get HSA Group quotes here.
---
California Group Health Subsidies
If you meet certain requirements, we may be able to get the IRS to chip into for your Group health plan!
Here are the two main ones:
Average salary (not including owners) under $50K
Up to 25 employees
If that might be you, let's see what you can get to help with the monthly premium.
We would apply through Covered California and help with the entire process.
In your quote below, list your average salary and # of employees so we can quote accordingly.

So...those are 5 key ways companies are saving these days.
There's lots of other tricks we can bear to bring down the cost!
Quote entire market (rate supremacy is changing all the time)
POP 125 - employee contribution is pre-taxed!
Skinny network plans - may work for many employees at average discounts of 10-20%
Cal-Choice in some areas can offer savings even over same stand-alone carrier
See if employees are eligible for tax credits on Covered California
Offer online employee management for onboarding, terminations, and payroll
MEC and more catastrophic plan options
Lots to look at but really, it's first best to quote the entire market.
Let's see what the best value is since the plans are all standardized now.
You can quote group health insurance rates here!
---
Best Strategy for Quoting California Small Business Health Coverage
Our first strategy is to determine your budget as the employer and then work backwards.
We can fix the employer contribution to that number and then give the employees choice to pick the plan that fits their needs without exposing your health benefits budget.
This has been the best approach and we're happy to run a full custom quote for your company based on our experience with the various carriers (we're independent agents who can deal with any of the carriers).
Health Reform has significantly affected the Small Group health insurance market in California.
As Certified Covered Ca Agents, we can use Covered California if there might be tax credits available (detail above).
As it stands, there may be 4 basic plan levels available...Platinum, Gold, Silver, and Bronze based on the Kaiser $30 copay HMO plan.
Our standard quote run is based on:
Silver level with the best priced full network HMO and PPO option
75% of employee only cost (dependents can be added)
Then quote best plan from all 4 levels based on silver 75% contribution
We can start there and adjust according to your needs/wishes!
How can we help!

---
Basic requirements to get group health insurance
Some key points...
First, Group health is guaranteed issue in California if our company qualifies.
Rates cannot vary based on health or size of the group now.
In order to have access to this guaranteed issue status, there are three main California group health eligibility requirements a company must meet:
The company must consist of at least 1 person (with one non owner/spouse person on payroll)
The company must pay at least 50% of the employee premium (based on employer's plan range selection)
75% of the eligible employees must go with the plan
The carrier will offer different promotions to loosen some of these requirements so check with us for your situation.
Let's analyze where we typically run into problems with the big three.
For very small companies or start ups, the 1 or more people can be an issue.
We need to show either payroll or ownership for 1/2 of the prior calendar quarter.
Occasionally, many employees (without alternative coverage) do not want to enroll due to cost and this can be an issue with the 75% participation requirement.
Keep in mind that the requirement can exclude part timers, people on other group health plans (say through spouse), people on Medicare, and contract workers.
We can help you look at your company's situation to see if you qualify.

California has many carriers to choose from with a range of different plan types.
You have access to quoting all of these plans and rates for your company here Group quote here.
For further reading on California group health guides, please check here:
5 New Ways to Save on Group Health
Tax Credits for Small Companies
Penalty for Paying Towards Individual Plans
Cloud Based HR System Free to Clients
---
Group health quote for California companies
---
Out of State Employees
Part Time Employees
Dual Coverage
Group Dental
Kaiser Small Group
Vision Insurance
California company size
Group insurance eligibility
How to Choose Group Plan
New Company enrollment
Part Time Employees
Premium Only Plan or POP
1099 Contract workers
Guaranteed Issue
Annual Renewal
Blue Cross EmployeeElect
Family Business health insurance
Shopping for group health
Value of Dental and Vision plans
California group health insurance
Why offer Small Group California health benefits
California Small Group RAF or Risk Adjustment Factor
Guide to Understanding group health coverage
Why purchase a health plan for your California company
California Employer Application
Shopping Group health market
Again, there is absolutely no cost to you for our services. Call 800-320-6269 Today!