California health insurance - Health insurance articles for California - Shopping for company health insurance
Shopping the California Group health insurance market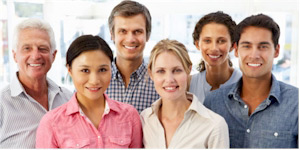 In California, we have one of the most competitive markets in the United States for Group health insurance and we need every bit of it with the increasing rates over the past decade. We really want to give you the power in the market and part of this is to provide you the ability to instantly quote literally dozens of carriers and over 100 plans side by side through our quoting engine here. As much as having all that information at finger tips is empowering, it can also be overwhelming for a California business owner to wrap their heads around. On top of this, the entire California group health market is going to change significantly Jan 1st, 2014 as part of Health Reform which we'll discuss as well. Let's get started!
Which Carriers Are Strong For Group Health Benefits
First, we have to narrow carriers down to the most solid options available. Right now, it's best to concentrate on Anthem Blue Cross, Blue Shield of California, Kaiser, Aetna, Health Net, and United. There are many smaller and not so small carriers but the above carriers are the strongest that we like to focus on. Most of them have HMO, PPO, HSA, HRA, and even the new ACO options. That still leaves way too many options and we need to find a way to narrow these down further. As a Small Business in California, how do we take all these available plans and still narrow it down further?
Short Cut To Running And Reading Your Group Quote
Let's tell you how we do it after years of matching California companies with the best health options. First, we load in the basic demographic information such as zip codes, employee ages, and dependent information (single, spouse, child, children, and family). This is all we need to put together a quote. Once the plans and rates come up in the quote engine, we find our benchmark, preferably one HMO, one PPO, and one HSA. Most of the carriers now offer the ability to give each employee a choice of plans with some kind of control of contribution by the employer. This is why we need to look at each of these three types of plans (HMO, PPO, HSA). So what is the benchmark? It's the key to finding the best plan. Let's teach you how to do our job.
Finding Group Benchmark Plans
Look at one of the major carriers such as Anthem Blue Cross. Find a PPO plan with a $750 deductible, $3-4K copay limit, $30-40 copay, and both generic and brand name RX coverage. With Anthem, it's the $40 copay plan. Now, look at the monthly premium amount. That's your benefit and premium benchmark. Find a similar benchmark for HMO plans ($40 copay with no deductible and full network), and HSA plans ($2500 80/50 plan). Now look at the other carriers for similar plans and see who has the best rates. You'll notice that the carriers all have a range of options and although the benefits will not be exact, they generally will have a plan that will match your benchmark plans. You'll notice that based on this comparison, a given carrier may really price out better than the others. There are many reasons this is the case...claims may have been better for that carrier or the carrier may want to be more aggressive for that type of plan. Either way, you need to take advantage of it. Be careful because some carriers are well priced for HMO's while others are priced well for PPO's. You want to have a sense for what your employees will gravitate towards. You also want to make sure that your employee's doctors are in their network with our online provider directories. Once you've found the best pricing for benefits and networks, how do you make sure that the costs will stay within your company's budget? We have a solution for that as well.
Offering Different Options While Fixing Your Cost
The major carriers mentioned above allow an option for you to designate how much you're going to contribute based on a fixed dollar amount or a percentage of a given plan (or any plan). With this option, you can give your employees complete flexibility (even between HMO's and PPO's) while adding control to your budget. It's pretty slick and everyone comes away happy.
Granted, there are still a lot of moving pieces here between plans, networks, and contribution levels but we're happy to do the grunt work for you. Let us know what you're looking for and an estimated monthly budget. With this information, we can find the California group health insurance carriers and plans that best match your needs. Now, Jan 1st, 2014, the group market will change quite a bit. Most likely, we will have four plans available on the market from each carrier that participates in the Exchange. We should start to see the general sketches mid 2013 and we can then re-evaluate our Group health options going forward. It's about to get really interesting!
Related Pages:
Group health insurance introduction in California
Health Reform Updates
Cafeteria style plans for Small California Company Health
Instant Group Health Insurance Quote