California Los Angeles Medi Medi Anthem Mediblue Health Plan
AND THE WINNER IS…BEST MEDI MEDI PLAN IN CALIFORNIA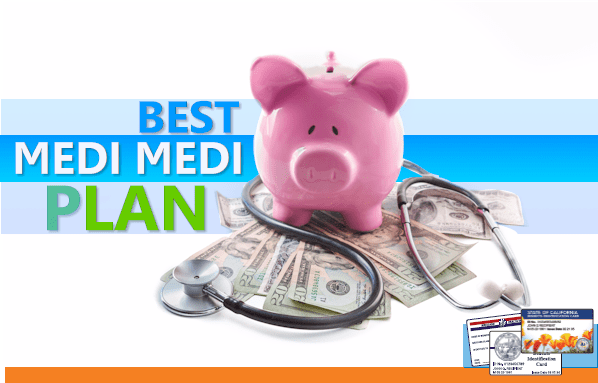 It's rare to get excited about health insurance.
In fact, the opposite is usually true.
Miraculously, that's the case for the medi medi market in California.
We have a plan that people are loving.
It's the Anthem MediBlue Plus Coordination Plan (HMO).
We'll jump into the pros of this plan as well as the medi medi world itself.
You can always jump right to a section here:
You can always request your quote here (Select Advantage Plans):

---
What Is Medi Medi?
Medi medi is the short-hand term for having Medicare and Medi-cal at the same time.
Generally speaking, Medicare is based on either age (65 and over) or permanently disable status.
Medi-cal (Medical) is the California version of medicaid which is generally based on income and assets.
It's possible for people to be eligible for both at the same time.
Hence the term medi medi!
The two plans will generally coordinate benefits or out of pocket costs together for people who are eligible.
You can then get medi medi health plans separately from a private carrier to fill in the holes of medi medi coverage.
That's where Anthem medi medi plan comes into play.
More on that later.
How can people have both at the same time?
---
How Can I Have Medicare And Medical
It's true…most people have Medicare or they have Medi-cal.
There is an overlap and 100's of thousands in California qualify!
We basically need to be eligible for both programs separately but at the same time.
Keep in mind that Medicare is a Federal program solely administered by the Federal government.
Medi-cal is the California administered arm of Medicaid, also a Federal program.
Medicare is generally the first step
Let's get right into the eligibility side of each one.
---
Medi Medi Eligibility
Let's look at each piece separately.
This is a quick overview. There's lots of detail but we want give you jumping off point.
Medi-Cal Eligibility As It Applies To Dual Eligibles.
First, you need to qualify based on assets.
Generally speaking, you can't have over $2000 in assets as an individual or $3000 as a couple.
They do not include the following:
Your primary home
One vehicle
Household goods and personal belongings
Life-insurance policy with a face value of $1,500 per person
Prepaid burial plan (unlimited if irrevocable or up to $1,500 if revocable) and burial plot
If we pass the asset qualification, they then look at income.
This depends on a few factors but you can get more information here.
You'll notice that there are little break-outs from the core income qualification based on such things as disability.
If you qualify for SSI (permanently disabled or blind), you'll automatically qualify for full Medi-cal.
Ultimately, you'll have to apply for medi-cal which you can do right through link or by contacting them directly.
If you're eligible for Medicare, you wouldn't apply for medi-cal through Covered California.
That's the Medi-cal piece.
We also need Medicare!
Medicare Eligibility For California Dual Eligible Medi Medis
Medicare eligibility is generally triggered 1 of 2 ways:
Permanent disabled status or blind
Age 65 and over
Permanent disabled status is the SSI we mentioned above.
If you have this status, you should be able to get medi medi plans.
For people age 65 and over who do not have disabled status or who are not blind will then qualify for the medi-cal piece based on asset/income.
You can find more on enrolling for Medicare here.
Once you have Medicare and Medi-cal together, we can get to work on the medi medi health plans!
A few more quick questions we typically get.
---
Are Medicare And Medical The Same?
This is a common question.
The quick answer is NO!
Medicare is a Federal program to provide health coverage to:
Individuals under age 65 who are permanently disabled or blind
Individuals age 65 and over who are eligible
Medi-cal is California's version of Medicaid which provides coverage and assistance to:
Individuals who qualify based on income and assets
Individuals who are SSI (permanently disabled or blind)
They are two separate plans altogether but they can coordinate for certain individuals who qualify for both.
That's where the medi medi or dual eligible plans come into play.
Let's look at each piece in more detail before discussing the best medi medi plan to fill in holes.
---
Quick Look At Medicare As It Applies To Medi Medi
Medicare is comprised of a few parts:
Part A – Hospital and Facility
Part B – Physicians charges
Part D – Medication
These are the big pieces.
There's are holes in the coverage.
Medicare generally works like an 80/20 plan with deductible built in.
We want to address those holes in coverage…especially the 80/20 piece.
The deductibles are fixed but who wants to pay 20% of $100K?
This is an important gap in Medicare that needs to be addressed with a medi medi plan.
What about the other piece of medi medi? Medi-cal?
---
Quick Look At Medi-Cal For Medi Medi.
Medi-cal kicks in with assistance in two ways generally:
Helps with share of cost or towards medical out of pocket expenses
Helps with insurance cost
They point is that if you're eligible for medi-cal and Medicare, they will work together to reduce your out of pocket costs!
Let's look at the next piece towards medi medi plan coverage.
---
Medicare Advantage Plans (HMO's)
Medicare Advantage plans are the Medicare equivalent of HMO plans.
HMO plans require more management of care in terms of who you can see (doctors) and how care is administered.
The trade off is low or no cost premium for these plans.
That makes them very popular versus Medicare supplements.
You can find out more about Medicare supplements versus Advantage plans here.
For Medi medi's, the dual eligible coverage is through Advantage plans.
Let's now get into that question with our favorite medi medi plan.
---
The Anthem MediBlue Plus Coordination Plan Benefits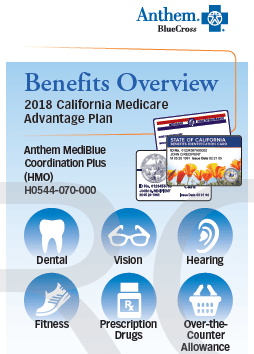 This is by far, our favorite medi medi plan in California!
It's not available in every area so check with us at help@calhealth.net
Los Angeles and Orange County occupy the current footprint but there may be equivalent alternatives in your area.
If you're outside this area, check with us for other options here.
You can always run your Medicare Advantage Plan quote here:

Let's look at the Anthem MediBlue Plus Coordination plan benefits.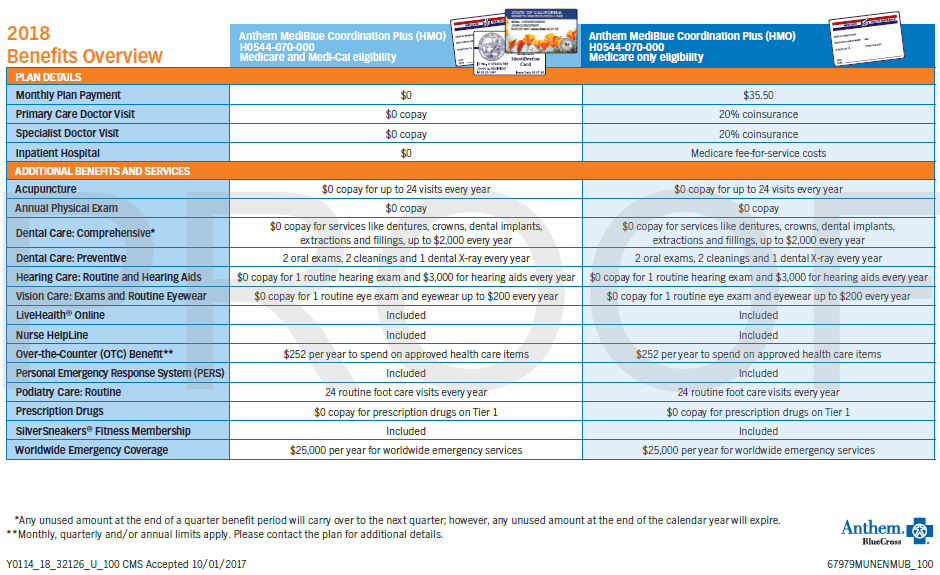 These can change so check with us for updated information.
Aside from the rich core benefits of the MediBlue Plus plan, we love the add-ons!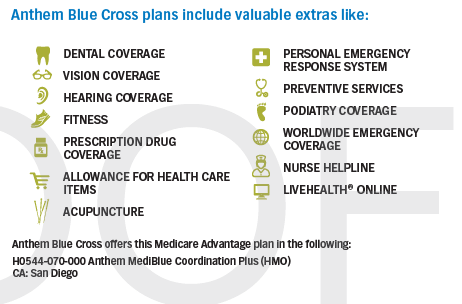 ---
Anthem Medi Medi Plan Providers
With any Advantage plan, it's really important to check (and like) the doctors.
By definition,, we have to stay in-network with an Advantage like Anthem's MediBlue Plus plan.
You can check the Anthem MediBlue doctors here through the quote.
We're happy to research providers for you as well so feel free to reach out to us by email.
---
How To Quote The Anthem Medi Medi Plan
The best way to quote Anthem's MediBlue Plus plan to request a Medi Medi quote here.
We'll securely send over what information need to accurately quote you the plan.
Again, you need medi medi or dual eligible status for this plan.

---
How To Enroll In The Anthem Medi Medi Plan
If you want to enroll on the Anthem MediBlue Plus plan, we can assist.
At no cost to you!
We will have a licensed Medicare Advantage specialist guide you through the process.
Just request enrollment in Blue Cross MediBlue Plus plan here.
---
Review On Anthem Medi Medi
Anthem's Blue Cross MediBlue Plus is really an amazing plan.
Super low copays
Add-on benefits that actually matter
Low or no cost pricing
What's not to love for people with medi medi or dual eligible status.
If you would like more information, please request this via email here.
All assistance for Medicare Advantage Plans including Anthem MediBlue is through dedicated agent:
Walter Jarvis;  Ca license#0E42038
Advantage plans have very specific rules, requirements, and protections.
This requires a dedicated license and effort to offer the best service.
There is no cost to you for our services!
A licensed representative can help you with any questions from there.
Again, there is absolutely no cost to you for our services.  Call 800-320-6269 Today!
Your Calhealth Advantage
Our online tools, free quotes and licensed agents are here to help you find a plan.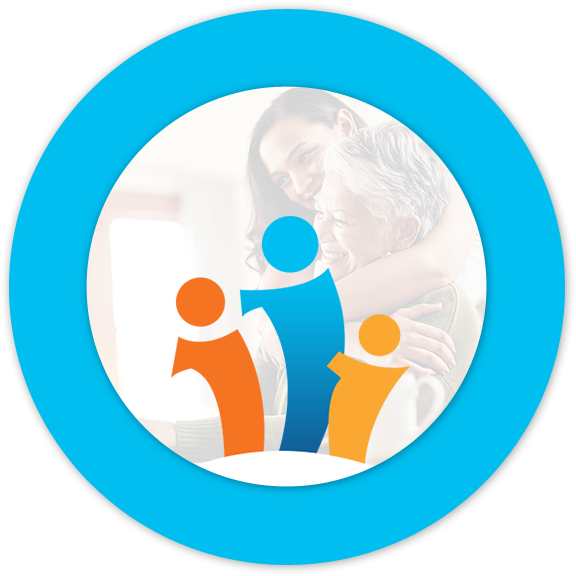 1

2

3

4

5

6

7

ON THE BLOG
Featured Articles